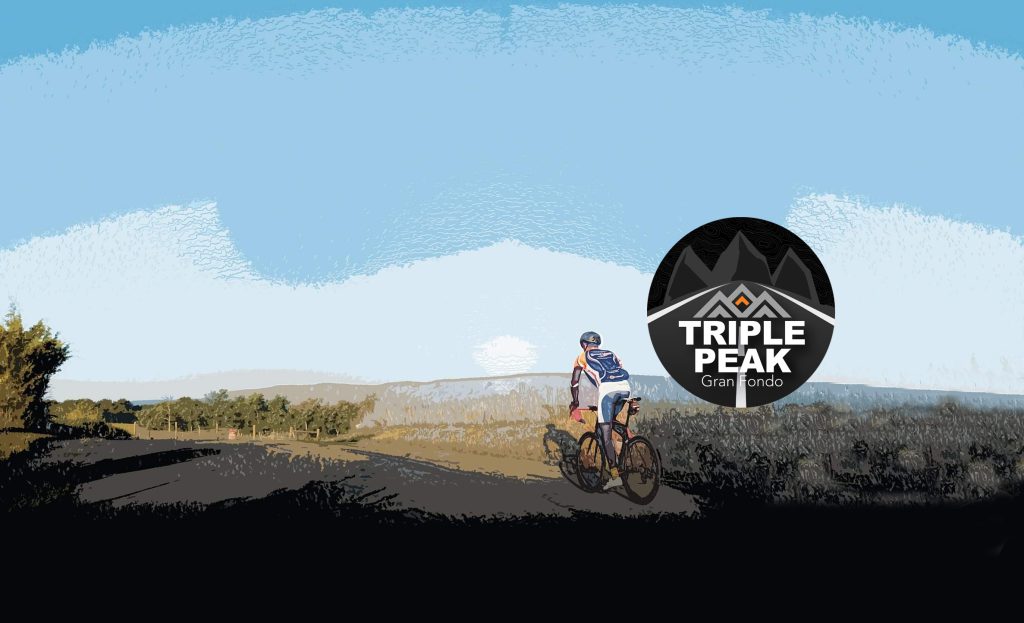 Triple Peak Gran Fondo

Saturday, June 1, 2024

Element Adventures is proud to announce the 2024 Triple Peak Gran Fondo!  The Triple Peak route has it all: plenty of miles, beautiful pastoral vistas, and stiff mountain climbs (with accompanying sweet descents!)  The Double Peak and Single Peak routes provide shorter challenges, but adventure nonetheless!  Over mostly rural roads, you'll get to see the beauty of northwest Virginia, as well as a fair bit of West Virginia.  And we don't want to leave out the Fun route, a shorter ride without a major mountain peak, but still great riding and views, perfect for a family outing.  And this year, we have a new treat for you!  Instead of starting and ending at Element Sports, the ride will begin and end at Briede Family Vineyards.  That means no junk miles getting in and out of town, and some new roads to ride!  And, we've set up new segments that are slightly different to use as the KOMs, so new challenge there, too!
A portion of each participant's entry fee will be donated to Congregational Community Action Project (CCAP), a local charity.  We ask that all participants bring a canned food item to donate to the food pantry.   CCAP maintains a food pantry, operates a clothing center with all sizes, and offers assistance in other areas such as rents, utilities and prescription drugs.  http://ccapwinc.org/  Help us raise funds for this organization that does so much in Winchester/Frederick County!
Aid stations: This ride will be supported with aid stations along the route.  We will have several aid stations, so plenty of places to refuel!  The aid stations will be stocked with PB&J, Chips, pretzels, HEED, gels, bars, candy, and more.  If you have dietary constraints, please let us know ahead of time so we can try to accommodate you as best as we can.  (We plan to have some Gluten-free options at the stations).  Although we will have supplies at the aid stations and mechanics at a few of them, be sure to carry at least the minimum supplies with you: spare tube(s), pump, patches, multi-tool. There will be a very nice dinner at the end of the ride, provided by a local eatery.
Hill Climbs Competition (KOM):  We will award prizes to the fastest times on the major climbs, and the fastest over the three combined for the Triple Peak route.  We will offer prizes for both men and women.  We will not have timing chips, so we will be using Strava to record the times.  In order to be entered into the timed climbs, therefore, you will need a Garmin, phone, or other GPS device and upload your ride to Strava when you complete your ride.
Strava segments:
KOM 1: https://www.strava.com/segments/35320047 Features in Triple Peak route.
KOM 2: https://www.strava.com/segments/35320163 Features in Triple Peak, Double Peak, and Single Peak routes.
KOM 3: https://www.strava.com/segments/35320120 Features in Triple Peak and Double Peak routes.
Please upload your ride to Strava immediately after the ride, and make sure the ride is public, so that we will be see your times on the segments.
Prizes: Each prize will be given to the top man and top woman.  Overall winners: A Triple Peak Gran Fondo KOM/QOM jersey and a free entry to another Element Adventures event. Top time each climb: free entry to another Element Adventures event.  Winners can only win one prize, so you'll be awarded the highest prize you qualify for.    We'll have 8 winners total (4 men, 4 women)!
Location: Briede Family Vineyards, 450 Green Spring Rd Winchester VA 22603  Map it
Cost: $70 Triple Peak / $55 Double Peak and Single Peak / $35 Fun+ until May 11, then $80/$65/$45 until May 31.  Day of registrations will be $85/75/50
Time: Check-in opens at 7:00 am and will be open through 10:00 am.  You may begin your ride as soon as you check in!  The longer the route you are doing, the earlier you will want to start, as there will be cut-offs.  See FAQ for details on cutoff times.  Please be sure to officially check out after the ride so we know you are off the course.
Post-ride Meal: Located at the finish at Briede Family Vineyards. Riders will enjoy a dinner provided by a local eatery.  You may also purchase meal tickets in advance for friends and family that come out with you. (Meal is included with riders' entry fee)
Parking: Parking is available at Briede Family Vineyards.
Register Here.  Don't miss out, so register today!
Volunteers!  We can definitely use volunteers, so please register as a volunteer if you are willing to help out.  Volunteers will receive a complimentary buffet ticket!
Jerseys: Pre-order a jersey to commemorate this great ride!  These jerseys are full-zip and made of advanced moisture-wicking fabric to keep you cool and dry. Rear pockets.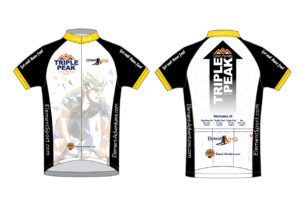 Comfortable club fit available in mens and womens.   You can pre-order your jersey on the BikeReg registration page.  $75. We'll have a limited supply available at the ride.  Size charts below. A few prior year jerseys will also be available day of for 1/2 price.  Picture will be uploaded as soon as the design is finalized.
We're looking forward to another fantastic ride!
Points of Note:
Mountain descents are steep and have sharp turns, and may have potholes.  Please be careful!
Follow all rules of the road: stop at signs, stoplights, etc.  Please ride single file when cars come up behind you. Roads will not be closed to traffic.
There is no gravel option this year.  All routes are on pavement.
There is a lot of elevation gain, and the major climbs are steep (especially Shanghai!), so make sure you are appropriately geared!
Route Details:
Triple Peak

103 miles
3 mountain peaks
9,500 feet elevation gain
No gravel
Orange arrows
6 aid stations at approx. miles 16, 35, 42, 50, 75, 90
Double Peak

67 miles
2 mountain peaks
6,300 feet elevation gain
Red arrows
4 Aid Stations at approx. miles 16, 24, 39, 54
Single Peak

38 miles
1 mountain peak
3,200 feet elevation gain
Pink Arrows
2 Aid Stations at approx. miles 16, 24
Fun
22.5 miles
No mountain peaks
1,200 feet elevation gain
Yellow arrows
No Aid Stations
Partners and Sponsors
We'd like to thank our partners and sponsors: Briede Family Vineyards, Hammer Nutrition, Bear Chase Brewing
FAQ
What is included with registration?  A beautiful ride with stocked aid stations and great support, as well as an excellent post-ride meal.  Sure, some other fondos hand out more swag like t-shirts or glasses.  But they're also a lot more expensive!  Triple Peak Gran Fondo jerseys are available for purchase for $75.
What is the refund or transfer policy?  There are no refunds, but registrations can be transferred for a $5 fee.
What is the cancellation policy? The Triple Peak Gran Fondo will run rain or shine.  If for some reason the event needs to be cancelled, Element Adventures will do their very best to be fair to the registrants, which may include at least a partial refund if possible.  Most likely, registrants will receive credit toward another Element Adventures event.
Can I buy post-ride meals for my family?  Sure!  $15/person.  Please purchase ahead of time if possible.  (Riders' meals are included in their entry fee)
What can my family do while I am riding?  There is tons for your family to do while you are out riding!  Jim Barnett Park is just down the street; they have playgrounds, a bmx track, a disc golf course, and more!  There is the Museum of the Shenandoah Valley nearby, the Third Battle of Winchester for a stroll through history, Apple Blossom mall for shopping and movies, and plenty more in the area!
Must I do the ride for which I registered?  If you need to switch to a shorter, you just need to mention it at the start or at the aid station should you choose to switch mid-ride.  Please, if you decide you want to tackle the Triple Peak after having registered for a shorter course, stop in and pay the difference at the end of the ride.
If I have a mechanical or minor injury and need a ride back to the start, what do I do?  Either let a volunteer at an aid station know and a ride will be arranged, or call SAG at 703-380-2924 or call Element Sports at 540-662-5744 and we will arrange to have someone pick you up.  If you have an emergency or major injury, please first call 911!
Are there shower and changing facilities?  No, there are no showers or changing facilities.
Are there cut off times?  Yes. We'd like to make sure everyone is finished and off the roads by 8pm at the very latest.  Riders on the Triple Peak and Double Peak routes need to make it to the Aid Station 3 at Reynolds Store Liberty by 4:00 pm  or they may be redirected to a shorter route.   There will be Sweep Riders/Drivers for each route, as well.
Are roads closed to traffic?  No.  All roads are open to traffic at all times.  There will be no mass start or police escort.  Riders are responsible to ride safely and to obey all traffic laws.
Will there be an awards ceremony for the Timed Hill Climbs competition?  Unfortunately, there will be no awards ceremony, as determining the winners will not be possible until riders have returned and uploaded their rides to Strava.  All riders who would like to have their times considered must upload their rides to Strava by 9:00 pm.  Winners will be announced by email and Facebook and prizes mailed.
I live locally, can I ride from my house? Yes, if you have registered, we have no problem if you join in to the route from your house, but please let us know ahead of time.  Also, should you choose to do so, note that your times on the Hill Climbs will not be counted.  To compete in the Hill Climbs Competition, you must start the route from the Briede Family Vineyards so that the competition is fair for everyone.
If you have questions, please call us at 540-662-5744 or email us at [email protected]
Jersey Size charts:
Men's Club-Cut Jersey
| Size | Chest | Length |
| --- | --- | --- |
| Small | 38 – 39.5 |   20 |
| Medium | 40 – 42.5 |   20.5 |
| | | |
| Large | 43 – 44.5 |   21.5 |
| | | |
| X-Large | 45 – 46.5 |   22.5 |
| | | |
| 2X-Large | 47 – 48.5 |   23.25 |
| | | |
| 3X-Large | 49 – 50.5 |   24 |
| | | |
| 4X-Large | 51 – 52.5 |   24.5 |
| | | |
Women's Club-Cut Jersey
| Size | Chest | Length |
| --- | --- | --- |
| X-Small | 34 – 35 |   19 |
| Small | 36 – 37 |   19.25 |
| Medium | 38 – 39 |   20 |
| | | |
| Large | 40 – 41 |   21 |
| | | |
| X-Large | 42 – 43 |   21.5 |
| | | |
| 2X-Large | 44 – 45 |   22 |
| | | |
| 3X-Large | 46 – 47 |   22 |
| | | |