Sunday, May 7

10 am to 4 pm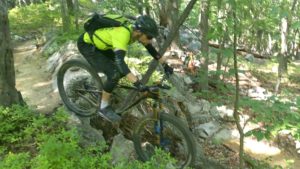 Element Sports is excited to sponsor an epic day of riding at Cacapon State Park in Berkeley Springs, WV!  Cacapon has many miles of excellent singletrack for every level of rider, from novices to experts.  From flow trails to extreme chunk, you'll find every kind of terrain.  If you haven't ridden at Cacapon before, you owe it to yourself to make it out!
We will have group rides throughout the day of various skill levels so that you can have someone to ride with that is familiar with the trails.  We will even be providing a free lunch, grilling up burgers and dogs.  We also will have a few demo bikes available, and our Giant rep will be providing some demo e-MTBs for you to try!  We're hoping that we can get another of our manufacturers out with some demos, too.
Location: The ride day will be based out of the Batt Shelter.  This is where you will find the meeting point for the group rides and the food.
Cost: FREE!  This is a completely free event, sponsored by Element Sports.  You can join one of the group rides, or you can ride on your own/with friends and just stop by the shelter for a free lunch, however you want to enjoy the day!
Current Schedule:
10am:
Group Ride on Rock and Roll, Hovermale Homestead
Beginner Women's Ride
11am:
Skills session at Batt area

(body positioning, bunny hops, logovers)

Intermediate Women's Ride
12pm:
Group Ride on Girl Scout, Ride the Lightning, Learning to Fly

Advanced Women's Ride
1pm:
Skills session at Batt area

(basics of drops and cornering)
2pm:
Group Ride – Central, Laurel, Middle Fork
3pm
Skills session at Batt area (Jumping)
Food will provided between 11am and 3 pm at Batt Shelter